I actually was a giveaway winner myself for a Best Bottom Diapers shell and inserts and had never heard of them before so I contacted the sponsor to see if I could offer a review posting and giveaway as well as a part of the event. I received the one I won as well as another to facilitate the review so I chose to do one of each closure type to compare! I choose medium inserts for both as the medium inserts fit from 11 to 22 pounds. Since my 22 month old is already semi-potty training and only wears diapers for nap and night I thought I would get the most use out of the mediums over all, even though he's right on the edge of the weight limit. I choose Chunky Monkey and Mint Chocolate Chip colors and they are both beautiful! I love how the piping along the edges are a different color, very cute!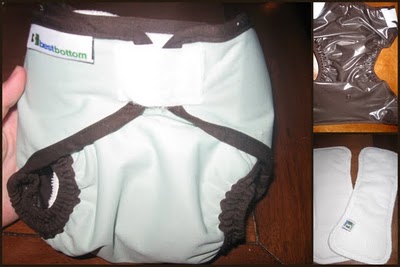 With the Best Bottom Diapers system you have a waterproof shell that can be reused until it gets soiled and with an older baby you may only need one or two shells for the whole day! Then you snap in the sized inserts into the shell so they stay firmly in place and with them being sized they fit perfectly to the rise! When your baby needs a change you just unsnap the insert and snap in a new one and you are ready to go again! If the shell is soiled you would change the shell as well as the insert. Because there is no lining for a pocket they are really trim overall and take up a lot less room in the washer! The shells also dry VERY fast! This is one of the most affordable diapering systems and claim to be even cheaper than prefolds!! No stuffing, pining, folding, bending – just snap and go! It also has your choice of Velcro or snap closure. They also sell additional overnight inserts that you would snap in first and then snap your traditional insert on top and you have extra absorbency overnight.
I thought the diapers fit a little bit funny on my 22 month old. They went on him just fine, they just always seemed like they were just a bit awkward fit. I did prefer the aplix (but I do in general) I felt like it fit better. I really liked the leg gussets though and thought the shell type of system was really quite nice and I love not having to stuff the diaper!! It was also simpler when soiled to just toss the dirty insert into the wet bag (or both pieces). I also really liked how trim they were on my son and also how little space they took up in the washer and in my wet bag!
You can find Best Bottom Diapers at http://bestbottomdiapers.com/!
or shop for them at http://www.nickisdiapers.com/!
*I received a Best Bottoms Shell and 3 Inserts for free to keep in order to try the product and form an opinion for this review. I was not compensated in any other manner. The opinions expressed above are my own and any claims should be verified on the sponsor's site. Actual experience may vary. Thank you to the sponsor for allowing me to review their products and host this giveaway!