Belfort, a great new game from Tasty Minstrel Games, is made for 2-5 players aged 13+. It plays in 90-120 minutes. "Belfort is a Worker Placement game with Area Majority scoring in each district as well as for each type of worker. Buildings give you influence in the districts as well as income, but taxes increase based on your score so the winning players will have to pay more than those behind! Manage your resources and gold well, choose your buildings wisely, and help build the city of Belfort!"
I received a copy of Belfort to review. I love board games and so I was thrilled to try out this new game. I haven't many games with this theme so that was very refreshing. The mechanics of worker placement and resource/building were very familiar to me, though, which made the game despite the variety of pieces and aspects extremely easy to pick-up and learn to play. On your turn you first place your workers on one of the variety of places across the board from buildings you may have previously built, guilds, or to create new workers or collect resources. Once all workers have been placed by all players, you move on to collecting any resources you've tasked your workers to collect and any income you might be earning from your buildings. Then, you set out to take your actions which might include activating workers placed on your buildings or guilds, building new buildings, or even buying/selling resources or new property cards. Rounds are scored three times through out the game and taxes assessed based on your total points.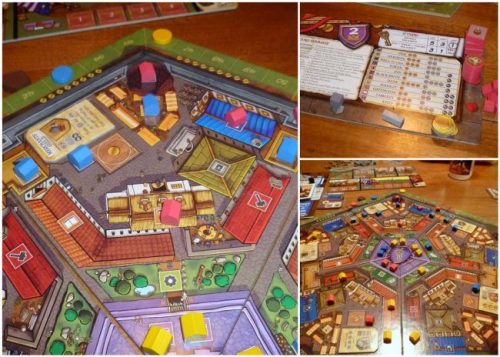 We played a 3-player game of Belfort and we were all able to grasp the concept and actions in the game really quickly which meant even the first time playing the game was really fun! We really liked that the game was built on a strategy rather than chance (minimal chance does come into play) and that the strategy could really be different from game to game based on other player's actions and the buildings you come across. It was interesting how as you got deeper into the game your choices became more limited as some of the buildings began to be built by your competitors and you then had to weigh the placement of the building into consideration for whether it would be a good building to build for your strategy. Each "pie" section of the board is scored as its own district based on majority of influence for each area. You have to make strategy calls on whether to strength your currently controlled areas or jump into a new area when building your new buildings and try to race for a first or second position in several of the sections of the board to be able to win. Total workers does come into play as far as your points as well. Overall we really enjoyed the game, the pieces and artwork was very nice as well! We will be pulling Belfort out again and our next game night!
Belfort is now on its second printing run and is expected to have additional copies available during quarter 2 of 2012. Connect with Tasty Minstrel Games on Facebook to be the first to know when this game is restocked! Belfort retails for $59.95.
Disclosure: I received a copy of Belfort in exchange for my honest review. I was not compensated in any other manner. The opinions expressed above are my own and any claims should be verified on the sponsor's site.